The Gene Hoover Family Album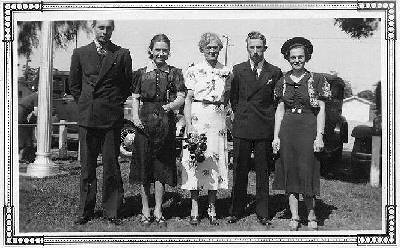 ---
I am afraid that at the moment, the only two people I can identify in this photo are those on each end. Then are my uncle and aunt, Eugene Francis "Gene" Hoover and Mary Stirk Hoover. The occasion of the photo is unknown to me. It looks like it might have been a wedding photo, but the locale does not look like Sioux City, IA, which is where Gene & Mary were married. It looks more like Los Angeles, CA, which is where my uncle & aunt made their home after their marriage. Perhaps it was just a special occasion after their arrival in Los Angeles in the 1940's. My father would come to live with his brother and sister-in-law after his stint in the Navy, and the boys' mother, Nell Olson Hoover also came to live for a short time before her death. When my parents were first married, they made their home in a trailer in the back yard of Gene & Mary's place in Los Angeles. It would seem that a large contigent of Battle Creek, NE lived there!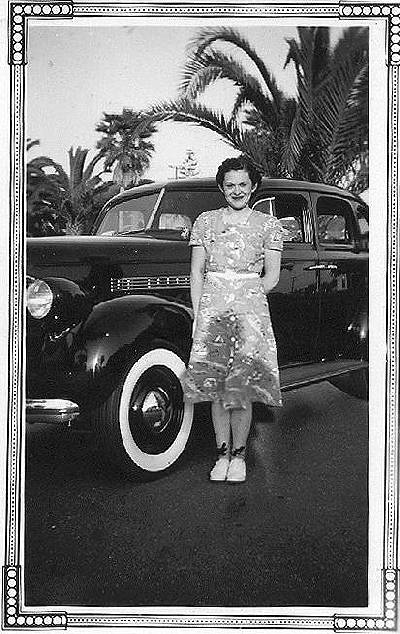 ---
Here's a delightful picture of my aunt Mary Stirk Hoover. My uncle and aunt's best friends for a good number of years was a couple by the name of Bert and Helen Price. After the death of my uncle in 1973, and the death of Helen Price, my aunt's friendship with Bert Price deepened. They married and lived happily for several years until my aunt passed away in 1988.
* * * * * * * * * * * * * * * * * * * * * * * * * * * * * *
Your Comments Are Welcome!
Just Click On My Name to Send Me Mail >>Richard L. Hoover
NOTICE: Material may be freely used by non-commercial entities, as long as this message remains on all copied material. These electronic pages cannot be reproduced in any format for profit or other presentation without the expressed written permission of the author, Richard L. Hoover.
Copyright &copy 1997 - Richard L. Hoover
Back to Gene's Grandpa