The Fred Hoover Page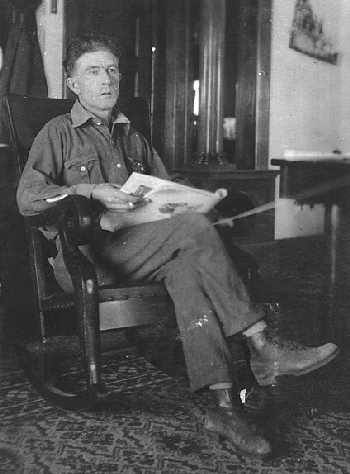 Here's a picture of my great uncle, Fred Hoover, the 2nd oldest of my dad's uncles. Fred was an amateur photographer and took a number of the photos I have used on this Web Site. He not only took the pictures, but developed them, too. On the last trip my parents made together to Nebraska, before my father died, an interesting thing happened. A elderly lady in Battle Creek came up to my dad and said: "Here. You should have this. It is a photo album that belonged to your Uncle Fred. It is full of family photos." With that, she place into his hands a somewhat worn photo album. It is, by my estimation, about 80 years old. I am thrilled that my father gave it to me, saying: "Here.....you should have this now. You are the family historian!" Sadly, most of the pictures in the album are unidentified. Once again we are reminded how very important it is for all of us to identify the photos we have now.....before we are gone and no one else can indentify them!
* * * * * * * * * * * * * * * * * * * * * * * * * * * * * *
Your Comments Are Welcome!
Just Click On My Name to Send Me Mail Richard L. Hoover
NOTICE: Material may be freely used by non-commercial entities, as long as this message remains on all copied material. These electronic pages cannot be reproduced in any format for profit or other presentation without the expressed written permission of the author, Richard L. Hoover.
Copyright © 1997 - Richard L. Hoover
Back to Fred's Dad