John Clark Hoover Page
---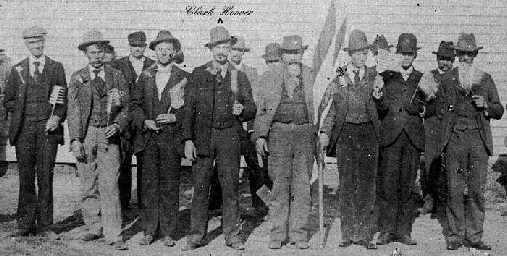 Here is a picture taken the day in 1898 that seven of the boys from Battle Creek, Nebraska left to enlist in Company F, First Nebraska Infantry. I have marked Clark Hoover on the photo. Clark's cousin, Will or Bill Hoover is standing immediately to Clark's right in back. Will did not enlist. Sadly, Clark never returned alive to the town or country he loved so much!
---

This is touching moument erected by the town of Battle Creek, Nebraska to
John Clark Hoover, in the Union Cemetery. The inscription speaks for itself:
JOHN CLARK HOOVER
born
Oct 24, 1876
Private Co. F 1st Regt.
Nebr. Vols
Wounded at
San Tomas, May 4 &
died in Manilla
May 5, 1899
Erected by the Citizens of
Battle Creek and Vicinity,
as Tribute of Respect to
Their Soldier


Sleep, Soldier, Sleep! The clear notes
Of the bugle call thee no more to
The heat of the fray.
Bright on the resting place,
Grave of the hero, Bloom
The fair wreaths of Memorial Day



Your Comments Are Welcome!
Just Click On My Name to Send Me Mail >>Richard L. Hoover
NOTICE: Material may be freely used by non-commercial entities, as long as this message remains on all copied material. These electronic pages cannot be reproduced in any format for profit or other presentation without the expressed written permission of the author, Richard L. Hoover.
Copyright &copy 1997 - Richard L. Hoover
Back to Clark's Father